If you're an internet marketer, you may notice that infographics are trending in the world of online marketing.
The presence of this media can make your content more interesting to the crowd and can later help you to increase website traffic. With their distinctive vertical and rectangular shapes, infographics are one of the best ways to creatively and engagingly convey your information and ideas.
Infographics are a quick and easy way to take your data-heavy information and turn it into an engaging, visual format that will not only increase the attention span of readers but also help you drive traffic. If you're looking for new ways to creatively present data or just want something different from standard text articles, infographics may be right up your alley!
However, with these often touted words, you may be wondering – what exactly is an infographic? This visual is easily confused with other forms of visual data, despite its own unique history, design, and purpose.
In this article, we will talk about some free websites that you can use to create them
1. Canva Infographic Maker
Canva is an online tool that is easy to use and complete enough to create a wide variety of graphics. From brochures to presentations, you can use Canva to create them. In addition, Canva also has a collection of images, icons, fonts, and features that you can choose from.
If you're not sure of the appropriate graphic sizes, you'll also get a variety of templates to simplify your design process – including for infographics.
Canva also has an infographic maker that you can use for free. Creating infographics in Canva is fairly easy because there are so many templates, design elements, and fonts that you can use.
There are several options that are only available if you become a Canva pro member as well as some elements that you can buy for $1. You can use Canva in your browser or download the Canva app for mobile devices if you need to design while you're on the go.
Here's one example infographic template on Canva: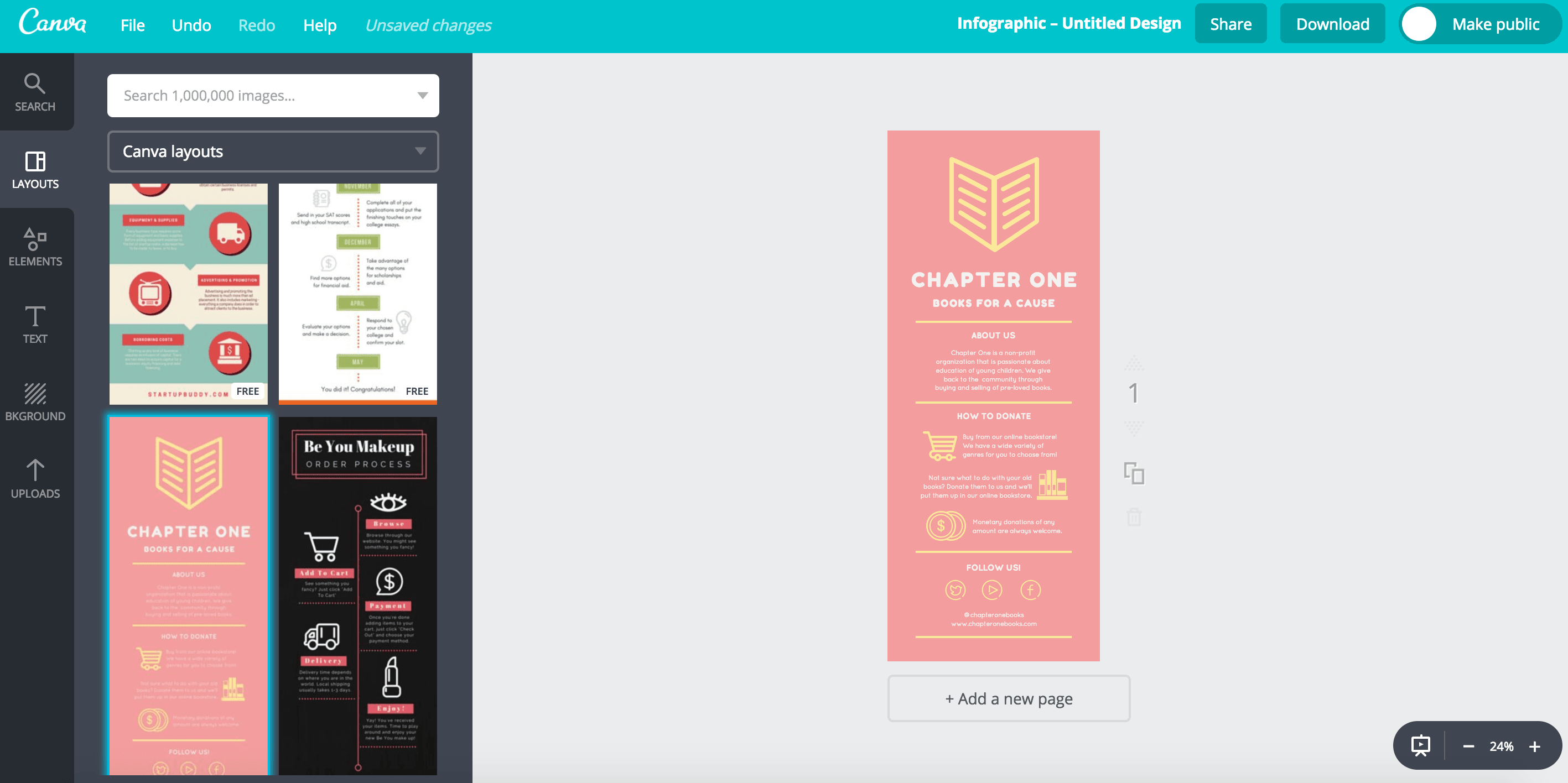 Once you've selected one template (or you can also start with a blank canvas in Canva), you can start creating your infographics. In addition to using images already available on Canva or uploading your own images. s
The good news is, canvas is now launching in Indonesia. You can already use Canva in Bahasa Indonesia so you can create infographics more easily.
2. Mind the Graph
Mind the Graph is an infographic-making website designed for a community of researchers and scientists, but its use is open to the public.
The website offers over 3,000 scientific illustrations and infographic layouts that can be customized as needed. Unfortunately, free users are not entitled to use infographic templates from Mind the Graph. This means you'll need to design your infographic from scratch.
3. Venngage
Venngage also offers several different options for the different types of graphics you need. In the infographic creation tool, you'll find templates for things like reports, posters, promotions, and of course, infographics.
In the infographics section, you'll also find additional options to choose from that tend to cover specific topics and categories of infographics, such as:
Statistical
Informational
Process
Comparison
Timeline
Geographic
Charts
tutorial
Once you've found the template you need, you can already start customizing the graphic. Venngage also allows you to include so-called "Widgets", which includes things like maps and charts based on the specific info and data contained in your infographics.
4. Pictochart
Piktochart is a great choice for creating different types of infographics. You can choose from several different formats including traditional infographic sizes (vertical), PowerPoint sizes (horizontal), posters, and reports.
Creating infographics on Piktochart is fairly easy. You're also given the freedom to create your own infographic from scratch or choose one of their templates. Some of their templates are free and others require you to have a Lite or Pro plan).
Setelah kamu memilih template yang kamu mau, kamu bisa kemudian menambahkan berbagai elemen grafis dan text di kanvas kamu. Piktochart juga memperbolehkan pengguna untuk mengupload image milik mereka sendiri.
5. easel.ly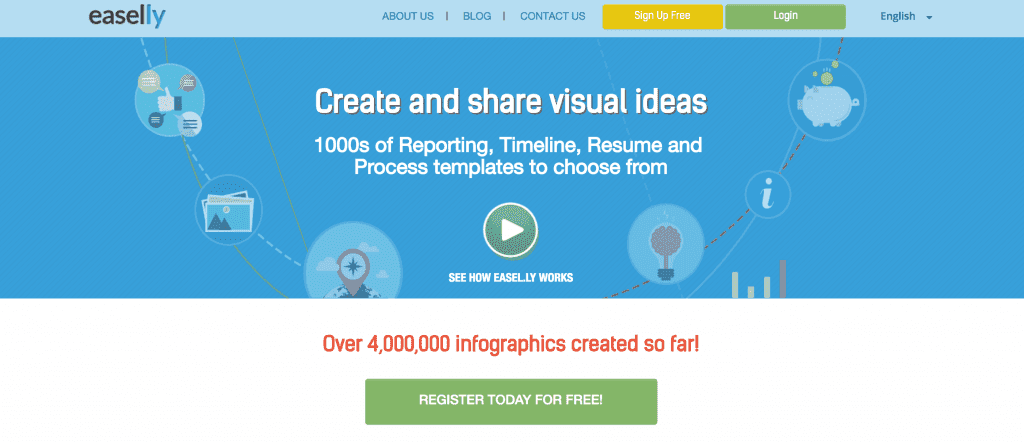 easel.ly adalah salah satu website yang paling mudah bagi kamu untuk membuat infografis. Saat kamu ada di home page tool ini, yang perlu kamu lakukan adalah memilih satu dari banyak template yang mereka tawarkan atau "Start Fresh". Mereka juga memberikan pilihan untuk memilih template sesuai kategori.
Setelah kamu menemukan template yang kamu suka atau memilih untuk memulai dari awal, kamu akan dibawa ke window baru dimana kamu bisa mendesain infografis kamu sebagaimana yang kamu mau. Easel.ly memiliki beragam tools seperti backgrounds, shapes, text, charts, dan lain sebagainya.
6. Visme
Visme is a service that is still relatively new. This tool gives you options to help you create presentations, animations, mock-ups, banners, and of course create infographics online.
After you log in with your account, the screen will show all the visuals for all the projects you have done. This screen will be blank if you have never created any project. You can start by clicking "Create New Visme" to get started.
After that, you can choose the type of project you want to do. Of course, since it's about infographics, you choose infographics. you'll notice that there are some free templates you can use. Some templates can only be used if you're using a premium account.
you'll then be able to design your infographic with a variety of tools available. Visme even allows you to animate an object.
7. infogr.am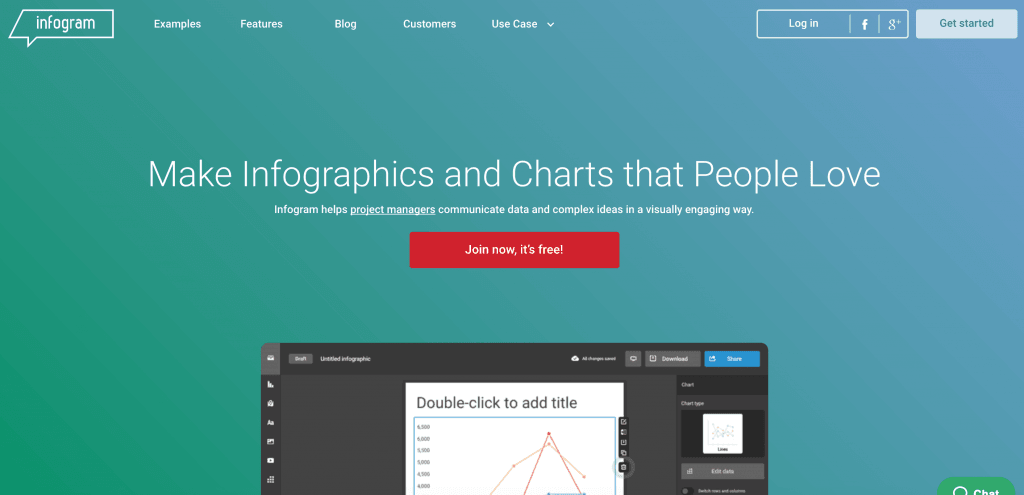 Infogr.am offers simple infographics templates for you to use. Once you've selected the template you like, you can edit the elements on the page. Infogr.am is one of the great options if you want to create statistics.
8. Snappa
Snappa is one of the best design tools for those of you who don't have a design background but want to create stunning visual images to publish online. These tools are easy to use and to learn so they can offer great results.
The developer has provided additional features in this app to provide all the photos available on Stocksnap for use on Snappa. Snappa itself focuses on graphics instead of good photos, which is great because graphics and icons offer more flexibility when creating visuals.
To use Snappa, all you have to do is register and verify your account. After that, you can instantly create graphics, including the infographics you want.
To start creating infographics, you can start with a blank canvas. For those of you who need help, don't worry! Snappa also provides templates so you can choose which template you like. However, some templates can only be used if you upgrade your account to the pay option.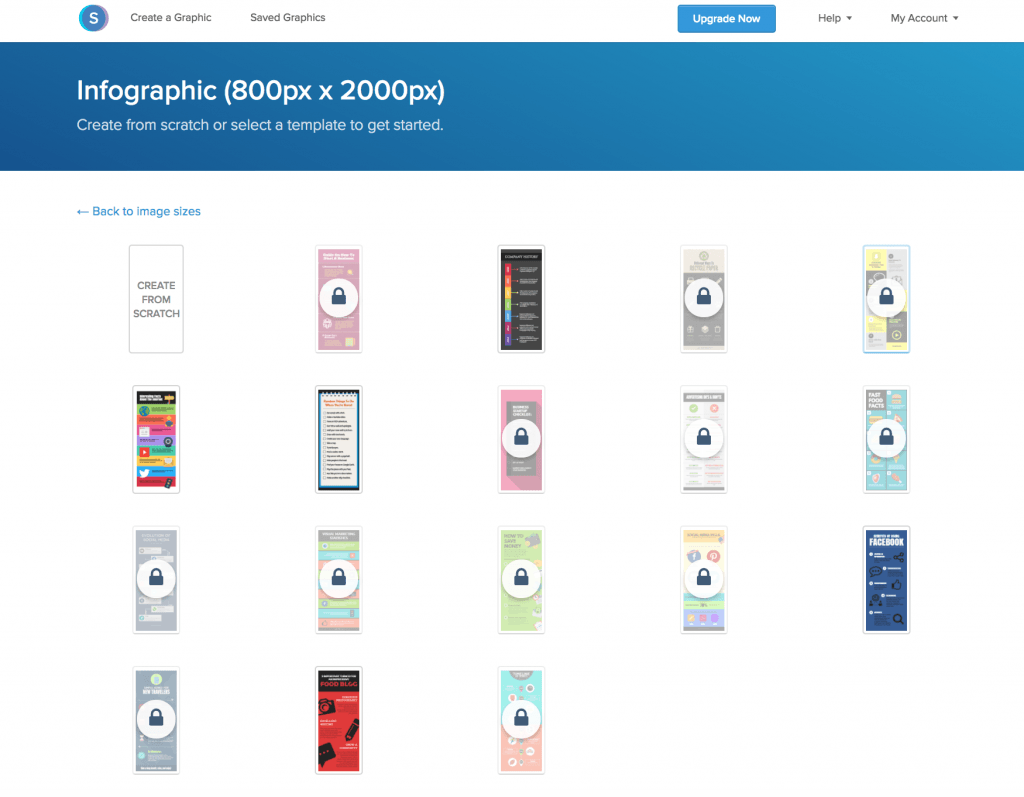 9. Biteable – Video Infographic Maker

You can also create infographics in the form of videos. Biteable is a free online tool that can help you create an infographic in video format.
Short animated clips that make use of a variety of visuals and multimedia materials to communicate messages in a concise and easy-to-understand way will certainly attract more attention.
Using this tool can be very useful because people definitely enjoy watching animated characters more while learning. The benefit of this video is that knowledge is shared in a fun way. They make it easier for people to understand the main topics. Content can be simplified and help them remember the information you share through this video.
You can easily create infographic videos with Biteable to explain key concepts, create instructional guides and tutorials to share with your website visitors.
This tool is user-friendly and can be used easily. You don't need any special skills in video editing to use it. The process is simple and easy and Biteable is packed with professionally designed animation styles.
How do I use it? Once you've created your free account on the platform, you can start by creating a video.
You just have to choose an animation style from the Biteable template gallery, edit text and colors, and then add photos and music. You can choose music or images from their library or simply upload your own files. The images you can upload must be in PNG, JPEG, or GIF format of less than 3MB.
When you're done editing the video, click 'Email Me My Video' and the video will be sent to your email. You can still edit the video within 14 days of creating the video.
10. Google Charts
Google Chart tools are one of the easy-to-use and free Google Developer products. You can choose from a wide variety of available charts and configure various data sets to make them match your website theme.
This online tool is not the most advanced tool for creating infographics, but Google Chart offers more design freedom and does not cost money.
Google allows you to create charts and they have a wide enough variety for you to design your graphics. you can choose your own style and format, and you can customize your graphics to your own taste.
Google Chart may not have as many templates as other websites, but this tool can greatly simplify the process of creating your Infographics.
11. DesignWizard
Design Wizard is online graphic design software that can help you create visual content. They provide thousands of skeletons and over 1 million images that you can instantly use to suit your needs.
With the concept of drag and drop, all you have to do is choose which template you want to use and customize it to your needs and desires.
Frequently Asked Questions(FAQ)
How do I make an infographic for free?
There are a number of tools available online that enable you to create infographics. Some free services include Canva, Venngage, PiktoChart, and Easel.ly. You can also go for a paid option like HubSpot's pre-made templates or Adobe Spark which is very popular in the digital marketing industry for its features such as creating timelines and maps.
When considering an infographic service to use, review parameters such as image quality (size) and customization capability so that the resulting product meets your expectations, as well as your, needs best!
What is the best free infographic maker tool?
There are many great online tools for making infographics, but the best infographic maker tool is definitely Piktochart.
The other major tool I would recommend is easel.ly which has a live web editor that you can see on your browser and create charts, shapes, pictures, and text to design your own infographic with real-time previews so you know exactly what it will look like before publishing it. You can create infographics on any topic and choose from categories such as how to make a resume or even something around Donald Trump's inauguration day.
Google Search Console – Domain Properties vs URL Prefix
What are the advantages of infographics?
-With an infographic, you can illustrate complicated concepts through the use of pictures and statistics, giving your readers all of the information they need to understand your topic without reading long, boring paragraphs.
-Infographics are a fantastic way to visually tell a story that may take hours for someone else to read in text form. However, depending on how much of the material you're able to fit within one graphic (and still remain uncluttered), infographics can lack detail and accuracy because it's difficult to include everything that might be necessary for your audience in such a condensed amount of space.
-Infographics make information easy for people who don't have a lot of time or just want more entertainment than hard facts;
Are infographics still relevant today?
Infographics are still very relevant today. Compared to text, infographics attract more attention and can be more easily understood by a broader audience. They're also easier to share than even long articles, so they've grown in popularity in recent years.
Infographics have been evolving alongside technology for over 40 years, so there has never been a better time to be using data visualization tools such as infographics to enhance your business communications with customers or stakeholders. Infographic design is particularly popular on social media sites such as Facebook, Twitter, or Pinterest where their original size can be easily shared through these sites' apps. A well-designed infographic will attract eyeballs and amplify the effectiveness of your message in just seconds.
Conclusion
Conclusion paragraph: We hope these 10+ best free tools for creating infographics will help you to create an infographic that's a perfect fit for your business goals. If all of this seems intimidating and you want more guidance, reach out! Our team is ready and waiting to partner with your marketing or communications department to provide the support they need in order to publish content online that connects well with their customers. Which one of these tools have helped you make visualizations that are easy on the eyes?